Closed
23.9 – 23.10 2020
Lisa Sanditz
:Mud Season
3–5 Swallow St

Hours
Monday to Saturday
10:00 am – 5:30 pm
Gallery
3–5 Swallow St
London
W1B 4DE
Huxley-Parlour gallery are pleased to present an exhibition of new works by American artist Lisa Sanditz.
One of the most celebrated landscape painters working in America today, Sanditz's richly coloured works explore humanity's impact on the natural world. Sanditz depicts the landscape as a reflection of contemporary cultural values. The eighteen works, made during lockdown in the United States in the spring of 2020, reimagine and rework the tradition of the Romantic landscape in the time of global health pandemics and Trump-era America.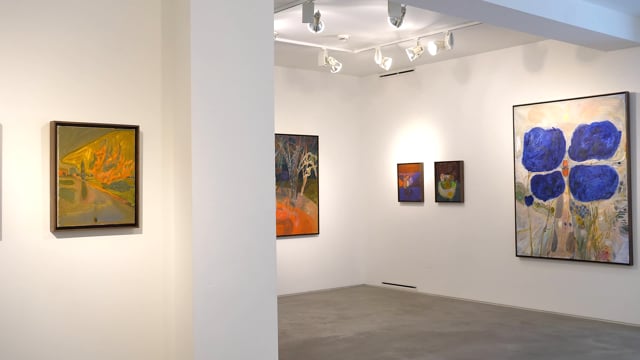 In Dante's inferno, people walk inverted in a downward spiraling malebolge. Our (my) sin may be one of consumer complacency, the malebolges, or "evil ditches", built on amazon boxes, hand guns, junk food, sports cars, emojis and other disposable content. Lisa Sanditz
B. United States 1973
Biography
Lisa Sanditz's pulsating, vibrantly coloured landscapes capture the intersection between the natural world and the built environment and its effect on food production, consumption, ecology and the economy. Her works are rooted in a fascination of how we organize ourselves in a commercial world and how we value and commodify the landscape. This interest in the commercialised landscape has seen Sanditz focus on farming in America's Midwest, junk food factories in Arizona and car manufacturing in Detroit. 
Alongside oil painting and ceramic work, Sanditz has also used plastics and industrial paint, such as that used to spray-paint cars, which she builds up in layers on the canvas, before sanding the surface to reveal the layers of paint, aiming to reflect the embedded nature of man-made products within our landscapes. Throughout her work, colour has remained of constant importance and she uses it in multi-faceted ways within her landscapes. Above all, colour is used as a destabilising force in her painting, in which she re-configures the canvas into a series of breaks and ruptures and streaks of colour, while simultaneously using it to delineate the boundaries between foreground and background and to unify the composition.
Lisa Sanditz was born in St Louis, Missouri in 1973. In 1994, Sanditz received her BA degree from Macalester College, St Paul, Minnesota, later graduating with an MFA from the Pratt Institute in Brooklyn, New York in 2001.  In 2008, Sanditz was awarded a Guggenheim Fellowship which allowed her to expand on her interest in depicting the built environment. Sanditz' work has been exhibited internationally in the United States, Italy, China and Belgium and is included in the permanent collections of the Dallas Museum of Art, Texas, the Kemper Museum of Contemporary Art, Kansas and the Columbus Art Museum, Ohio. Sanditz has also worked as the visiting artist at SUNY Purchase, the University of New Orleans and Rhode Island School of Design. 
She lives and works in New York.