Closed
23.9 – 18.12 2020
Jonas Pequeno
:/ˈfəʊli/
3–5 Swallow St

Hours
Monday to Saturday
10:00 am – 5:30 pm
Gallery
3–5 Swallow St
London
W1B 4DE
Huxley-Parlour gallery presents a solo exhibition of new audiovisual and installation works by the London-based artist Jonas Pequeno. Comprising of three works, a kinetic sound installation Foley, a CGI video Ocean Scene Composite and a photographic print, and the act of appearing, the exhibition considers incongruity in digital fictional constructs.

The title of the exhibition, /ˈfəʊli/, is a phonetic transcription of the word foley, a film-making technique used to manually mimic everyday sound effects in post-production when props do not acoustically match their real life counterparts. Commonly used foley techniques include using acorns or walnuts on wood to emulate breaking bones and cornstarch in a leather pouch to achieve the sound of crunching snow.
Influenced by the concept of foley, Pequeno's work features an audiovisual installation that incorporates microphones and balloons swayed by a fan, replicating the sound of crashing ocean waves. This sound is digitally processed and played through speakers alongside a computer-generated ocean scene; creating an entirely manufactured, simulated environment. The exhibition highlights the powerful possibilities of technology and challenges our perception of sound via Pequeno's experimental methods.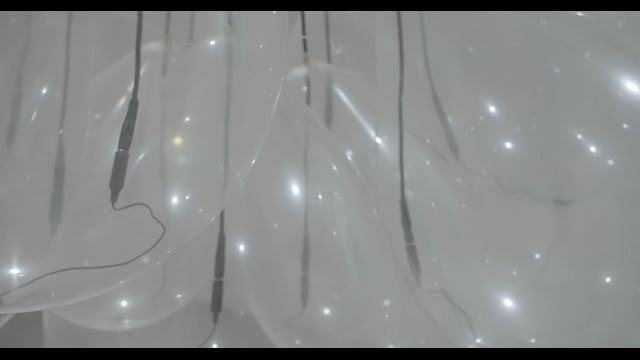 Jonas Pequeno works predominantly with sound, spanning various mediums including sculpture, painting, performance and video. He is interested in the transformative nature of sound and its intersection with language, exploring concepts around semiotics, absurdism and technological intervention.
Jonas Pequeno was born in 1995 in London, UK. A recent graduate of Central Saint Martins, Jonas Pequeno has already gained significant recognition with works shown at The British Museum in London, as well as Bloomberg New Contemporaries at Leeds Art Gallery and South London Gallery in 2019. He is currently a resident on the Associate Studio Programme, UAL. He lives and works in London. Recent exhibitions include Transatlantic Waves, Fourth Sounds, online (2020); >s>o>u>n>c>o>m>f>o>r>t>r>u>s>t, Agorama x Off Site Project, online (2020); You're in a Computer Game, Max!, SKELF, online (2020); Lateworks: of Noise, Slow Space, London (2020); Bloomberg New Contemporaries, Leeds Art Gallery, Leeds and South London Gallery, London (2019) and Ways of Knowing, British Museum (2017).
He lives and works in London.