Closed
19.3 – 15.9 2020
Pablo Picasso
:The Ceramics
3–5 Swallow St

Pablo Picasso
:The Ceramics
Hours
Monday to Saturday
10:00 am – 5:30 pm
Gallery
3–5 Swallow St
London
W1B 4DE
Huxley-Parlour are pleased to be hosting an exhibition of ceramic works by Pablo Picasso. With subjects varying from Greek mythological figures, animals, faces and even scenes of the Spanish corrida, his pieces are united by an accessible and playful aesthetic that carries the recognisable hand of Picasso. The selection exhibited at Huxley-Parlour, featuring female muses, faces and curious animals in unique designs and unusual shapes, speaks to the variety of the artist's practice and its enduring appeal over time.
Picasso's ceramics are predominantly the result of a 25-year collaboration with the Madoura Pottery workshop in Vallauris, where he met his muse and second wife Jacqueline Roque. During this period, which spanned from 1946 to his death in 1973, he produced over 600 pieces, originating from more than 3,500 ceramic designs. Intended to be accessible and easily affordable, Picasso created editions of up to 500 pieces, the result of a prolific practice and continuously evolving style.

From elegant plates and platters to intricate and imaginative pitchers and vases, the pieces exhibited reveal the breadth of the artist's innovative practice in clay. As in Picasso's prolific painted oeuvre, his use of vigorous, abstracted brushstrokes give life and vibrancy to his ceramic subjects. In some cases, the arms of pitchers are turned into extensions of the figures themselves, becoming the anatomical features of the animals depicted. These works in particular demonstrate the evolution of Picasso's practice, having begun with mostly utilitarian items such as plates or bowls and having progressed to more complex forms.

Throughout his later career, Picasso experimented with a variety of ceramic techniques, including oxides and glazes, firing processes and engravings. He adopted two main styles: the precise replication of an object and the creation of unique designs using dry clay moulds. Works of the latter kind are distinguished by the mark 'Empriente Originale de Picasso'. Every piece contains a stamp or marking. The most common, featured on all exhibited pieces, include 'Madoura Plein Feu', which verifies the edition's authenticity and provenance, and 'Edition Picasso', limited editions authorised by the artist and created at the Madoura factory.

Picasso prioritised the functionality of his ceramics. Many of his first pieces were used in his own home or gifted to friends. In contrast to the elevated prices of his paintings and sculptures, his ceramics were both accessible and easily available. Reflective of Picasso's unmistakable style, they provided then as they do now a unique key into one of the twentieth century's most influential artists.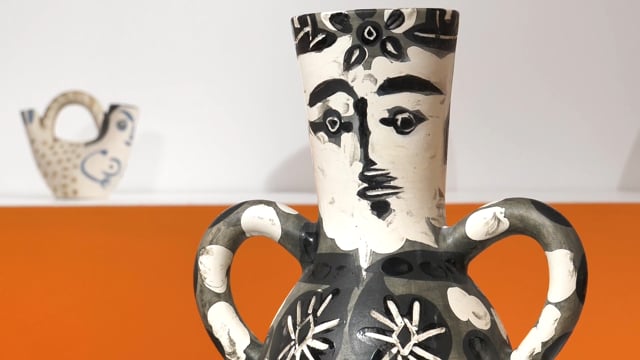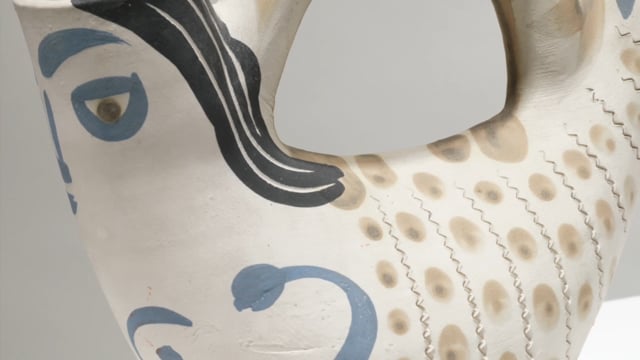 Pablo Picasso is one of the best-known artists of the Western world, celebrated for his inventive use of colour and form and his varied output. Picasso's oeuvre can be dissected into his Blue Period (1901-1904), Rose Period (1904-1906), and his move into Surrealism with the painting Les Demoiselles d'Avignon (1907) which was inspired by Iberian sculpture, ethnographic objects from Africa, primitivism, and eroticism. Picasso spent many decades producing ceramic designs in the Madoura pottery workshop in Vallauris, France. These pieces often used recognisable motifs from his paintings and drawings, including bulls, portraits, and mythological references. Picasso painted the world-renowned Guernica in 1937 in response to the bombing of the Basque town of Guernica by Nationalist Forces.
Alongside contemporary Georges Braque, Picasso conceived an artistic movement known as Analytical Cubism, which used neutral tones to depict de-constructed objects, offering multiple-perspectives in a single image. He also created the first collage compositions, creating geometric pieces out of newspaper cuttings and wallpaper. He left behind a prolific output of paintings, sculptures, drawings, ceramics, tapestries and prints which became the basis of the collection for the Musée Picasso in Paris.
Picasso was born in Malága, Spain in 1881. He studied at the Academy of Fine Arts in Barcelona before moving to Madrid to study at the Real Academia de Bellas Artes de San Fernando. There are museums dedicated to Picasso's work in Paris, France, Barcelona, Spain and in his hometown of Malága. His work is held in the collections of international museums and galleries including, the Museum of Modern Art, New York, the Museo Nacional Centro de Arte Reina Sofia, Madrid, the Rijksmuseum, Amsterdam, Tate, London and the National Gallery of Art, Washington, D.C. His works are amongst the most expensive ever sold at auction.