B. United Kingdom 1953
Biography
Eileen Cooper makes figurative paintings that encompass themes of fertility, sexuality, motherhood, life and death. Cooper produces work from an unapologetically female perspective, often containing a strong autobiographical element. Her vision encompasses a wide emotional range, with an allegorical approach. As well as the female figure, animals and objects enter Cooper's compositions, often playing symbolic or totemic roles. Her motif-filled imagery has often been described as magical realism, although she has cited Indian, Persian and Egyptian art as influences on her paintings. Her rich and sometimes expressionistic use of colour, as well as her use of strong and simplified line has been likened to the works of Henri Matisse and Paul Gauguin, as well as to Expressionists Emil Nolde and Ernst Ludwig Kirchner.
Cooper studied at Goldsmiths School of Art from 1971 until 1974, before completing an MA in painting at the Royal College of Art in 1977. She rose to prominence as an artist in the 1980s, during which time she also held teaching posts at both St Martins School of Art and the Royal Academy Schools. She became a Royal Academician in 2001 and served as Keeper of the Royal Academy between 2010 and 2017.
Cooper has been the subject of numerous publications, including Eileen Cooper: A Woman's Skin by Meredith M Hale and Philip Lindley, and Eileen Cooper: Between the Lines by Martin Gayford. She has had numerous international exhibitions, including solo exhibitions at the Royal Academy of Arts and Dulwich Picture Gallery, London. Cooper curated and co-ordinated the Royal Academy of Arts' 249th annual Summer Exhibition in 2017. Her work is held in several important collections including The Arts Council Britain, the Victoria and Albert Museum and The British Museum, London. In 2016, Cooper was appointed Officer of the Order of the British Empire (OBE) for her services to Art and Art Education. She is an Honorary Fellow at Murray Edwards College at the University of Cambridge, and the Royal College of Art; and was awarded an Honorary Doctorate from Southampton Solent University in 2014.
On 10 September 2022, Parallel Lines: Eileen Cooper and Leicester's Art Collection opens at Leicester Museum & Art Gallery. This major survey exhibition brings together – for the first time – works created throughout Eileen Cooper's career presented in conversation with paintings, drawings, prints, ceramics and sculpture from Leicester Museum & Art Gallery's permanent collection.
She lives and works in London.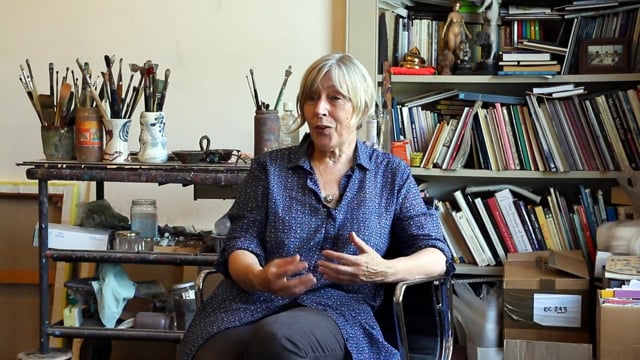 By continuing to use this site you consent with our cookie policy. You can read more here.
Enquire
Thank you for your enquiry. We will be in touch shortly.